Our Media has more important things to cover such as the weddings that took place this year" rather than education and I obviously lost my mind"
Being a women entrepreneur, I always wished that one day, if I achieve something in life, my Pakistani media will definitely support me in promoting it. To my surprise, covering Pakistani Weddings, naach ganay, fizul ravayaat is so important for our unethical and illogical media that they don't consider an educational achievement an important news.
The Role of Media in Pakistani Celebrities Weddings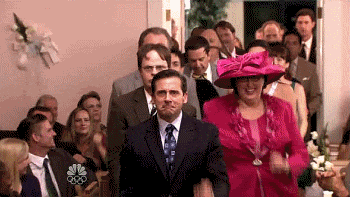 My husband and I owns a digital marketing institute in Karachi, Pakistan. We have been running it for past 2.5 years and Alhumdulillah, it had been a great venture. When we started off, the main reason behind initiating a digital marketing institute was the lack of its presence in our country.
Pakistan still scores way behind in technical and digital stuff and this really annoys me. And you know who should we blame for it? Well according to my stats, it's the media! Our media is not playing any role in promoting things related to education. They are just working on how to bring TRPs and how to run a business! And I regretfully had to write an article just to portray the real image of our media.
This is How The Media Responded Me
Story is, my husband Muhammad Kabir Khan, has written a book on digital marketing, now the achievement in it is. "HE IS THE FIRST PAKISTANI TO WRITE A BOOK ON DIGITAL MARKETING IN PAKISTAN". Don't you think that is an achievement? Don't you think this should have been featured in our newspapers, media and press? But you know, why would our media cover an achievement of a Pakistani, for them, Aiman Muneeb ki shadi is more important, for them, kis designer ka lehanga brides' ne pehna tha that is important or for them the songs that got viral in 2018 are important but NOT EDUCATION! Wow! [PS: I am not making this up, this is an actual reply from a media person]
We had the book launching ceremony in Karachi and I invited almost the entire media. As expected, NONE OF THEM SHOWED UP! On inquiring, I got to know that they were busy in covering much more important stuff as 2018 is ending and an education achievement is not an 'interesting' thing as it will not capture anyone's attention. So our Pakistani Media Preferred Covering the Celebrity Weddings that happened this year rather than Education!
I just want to tell the media, you are because of us! We are the ones who give you these TRPs, we are the ones who makes the News viral! We are the ones who actually watches all the inconsequential and unimportant stuff that you on air. And you don't consider an achievement in Pakistan an important one? Great!
Yes I am all angry while writing this down because I, being a Pakistani, needed your support to educate others, to motivate others and to let people know the important of the trending phenomenon in our country. But sadly, our honorable media is stuck between designer lehanga and viral songs of the years.
Me and my husband are starting a campaign to educate the people who can't afford it. We are planning to visit the rural areas where there are children who want education but are unable due to financial crisis. I don't need no money! I just need your support to make Pakistan a digital country. We should not make education a business, it's our duty! To educate others, to transfer the knowledge we have to others!
Let's join hands together in making Pakistan a better country where we all can live peacefully and let's educate masses. Our children are our future, let's make their present worthwhile!
www.digidoze.com
facebook.com/digidoze